Orbu
Game info
https://itunes.apple.com/us/app/orbu/id1271707085?mt=8
Inspired by Japanese Zen gardens, Orbu is a physical AR game with engaging slingshot mechanics. Transform your surroundings and embark on a journey through ever-changing seasons. Discover and collect new Orbu creatures such as Tanuki (raccoon dog), Noko (turtle) and Konkon (fox) – and guide them through a series of obstacle courses.
My responsibilities
Designing around a third of the levels, including all DLC levels.
Researching traditional Japanese gardens for features that could translate well into game mechanics (the water hazard at 2:05 in the video below for example).
Sketching layout ideas and then greyboxing and prototyping in engine.
Writing art requests and spec for interactive elements and kit parts.
Setting score thresholds for each level.
Generating the necessary app icons and images for App Store submission.
Using my Japanese language ability to improve the Japanese localisation of the game and it's App Store content.
General QA.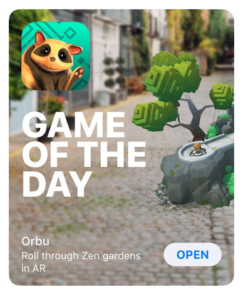 In action